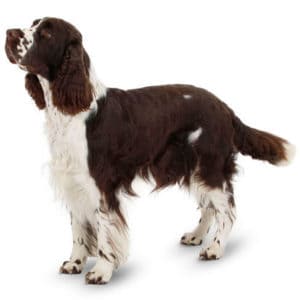 Regular grooming of the coat is necessary, which may include stripping, thinning and even clipping – in the case of some pet dogs that have "runaway" coats. However, the natural look is desired and less trimming rather than more is usually sufficient to keep the coat looking good.The coat of the English Springer Spaniel is close, straight and weather-resistant, never coarse. The feathering on the ears, forelegs, body and hindquarters is moderate. However, some ears seem to grow profusely and are better trimmed shorter to avoid matting and the collection of debris.
Grooming the Coat
Equipment needed: Pin brush or slicker, metal comb.
Household rubber gloves or rubber thimbles will make the removal of dead, wispy hairs much easier – particularly on the top of the head and on the body coat.
Brush the body and feathering with a pin brush or slicker, removing tangles with a metal comb.
For a pet groom, trim (with thinning scissors) all the hair immediately under the ear. This will allow the air to pass freely into the ear and help prevent infection. Clean regularly with a proprietary ear cleaner.
Carding is useful to thin the body hair where required. Use thinning shears where excess hair falls to give a tidy, clean — but not over trimmed — look.
Bathe the dog in a suitable shampoo.
Lightly blow-dry the coat, going in the direction of the growth of the hair to dry it flat, or cage-dry after combing through the coat when wet.
Check the dog's nails, ears and teeth.
Check underneath the feet for the presence of debris and unwanted hair.
Trim any excess hair from the back of the hocks to neaten, giving a clean look.
Tidy the feet to a well-rounded, tight appearance.
For a show trim, trim the hair underneath the ears so they lie flat.
Using trimming scissors, trim the hair on the ears to about one-third of the way down, to achieve a smooth finish.
Next, pluck out long hairs from the top of the dog's head.
Trim the hair under the chin and on the brisket bone, again using thinning scissors. Thin the hair on the shoulders and blend the hair into the body.
Dead hair on the flanks and from the occiput and down the neck and back should be plucked out using finger and thumb. Scissors should not be used.
The hair around the tail should be trimmed to a neat appearance, and hair around the anus should be removed. Blend in to surrounding hair by using thinning scissors.
Trim the hair around each foot to neaten the shape, and cut any excess hair in between the toes and underneath the foot.
Use thinning scissors to trim the hair and graduate back to the "stopper pad" to blend the hair in.
Remove hair from the hocks, trimming to a close, smooth finish. Again, use thinning scissors.
How to Groom The Coat of an English Springer Spaniel
was last modified:
April 12th, 2019
by