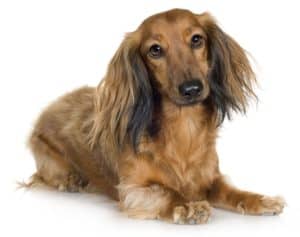 The long coat, which is ideally flat and silky, needs little grooming except for a regular comb-through to keep it free from tangles, and to help remove hair which is shed during a molt. The Long Haired Dachshund has a soft texture with straight or slightly wavy hair. The color is variable, but dapples should be evenly marked all over, and no white is permissible. There is red, black and tan, chocolate and dapple.
Equipment needed: Bristle brush, medium-toothed comb.
Breed tip: These hounds love following their noses, going down holes and sniffing in the undergrowth, and always end up with a great deal of the countryside in their coat. Consequently, a quick brush at the end of every walk is advisable.
Brush the entire coat with a pin brush or slicker.
Check for mats by combing through the coat with a medium-toothed comb.
Long Haired Dachshunds benefit from an occasional bath, using a good dog shampoo. Rinse thoroughly, and dry with a blower or in warm air. Bathe the dog at least several days before a show to allow enough time for the coat's natural oils to be replenished.
Check the dog's nails. The Dachshund's nails should be regularly trimmed for show and pet dogs, and must be done with great care since the quick cannot be seen.
The ears can be wiped with cotton batting, and the teeth should be kept clean by regular brushing.
Check under the tail and remove excess hair from around the anus.
Add sparkle to the coat by lightly spraying (or applying with your hand) some coat-finish lanolin. Of course, if you are showing your dog, no substances must be added to the coat.
Grooming Tips for Long Haired Dachshunds
was last modified:
March 1st, 2019
by