Check the inside of th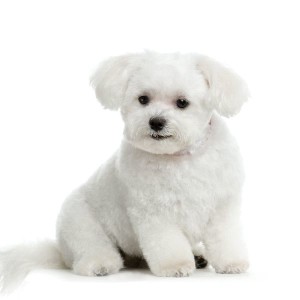 e ear for accumulated wax and dirt. Begin by removing the long hair that leads to the ear canal. Use tweezers or a hemostat to pull out the excess hair. If this area is blocked, serious ear problems can occur. After removing the hair, dampen a Q-Tip with alcohol and carefully clean out the canal. Apply a bacterium inhibiting powder made for the purpose and available at most pet supply stores.

Never probe into the ear canal with anything smaller than your fingertip. If wax seems to build up often or if you notice any strong odor when you lift the ear, have your vet check for a possible ear infection.  Other indications of ear problems are constant shaking the head, scratching, or holding the head tilted to one side.
Hair should be removed from the ear canal before bathing. Cleaning the ears is a vitally important part of Bichon grooming. If done periodically your Bichon's ears will stay clean and the process will only take a few minutes.
Dental Care
In the wild, animals keep their teeth clean by chewing through tough bone, muscle, and hide to get the food they need to sustain themselves. Humans serve their dogs prepared foods that only require swallowing. Thus, teeth become neglected and decay sets in. Some Bichons love to chew hard dog biscuits and this keeps their teeth relatively clean. But not all dogs chew enough to keep their teeth in good shape.
If your dog isn't doing the job himself, you will have to help the situation along by brushing his teeth. Most dogs learn to submit to having their teeth brushed very quickly. Brush your Bichon's teeth at least once a week with toothpaste designed for dogs.
Do not use toothpaste developed for human use as most contain sugar that will only add to your dog's problems. If plaque buildup has occurred, make an appointment to have it removed by your veterinarian.
Ear Care and Dental Care for Bichons
was last modified:
September 11th, 2015
by