Here we go over a list of different type of coat and how to groom it. Most short-haired dogs have a straight layer of coat that lies flat against the skin. They can be divided into two categories: Short hair with single coat and short hair with double coat.
Short Hair with Single Coat
Examples of breeds with this coat are Italian Greyhounds, Weimaraners, and Doberman Pinschers. Their bodies are covered with a very fine layer of shiny hair very tight to the skin. This kind of coat is very low maintenance. It is important to protect these dogs from extreme heat and cold because their coat doesn't provide the insulation that dogs with double coats have. Sweaters and jackets are not just a fashion accessory—they are a must in extreme weather conditions.
Single short-haired dogs don't shed and don't need to be bathed as often. Going over the coat with a damp washcloth and a little self-rinse shampoo or just warm water is enough to bring the shine back to the coat after a day at the park.
Short Hair with Double Coat
Examples of breeds with this coat are Pugs, Chihuahuas, and Dalmatians.
Their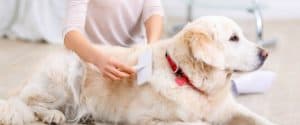 coat is tight to the skin but feels thicker and cushiony to the touch. The thin layer of undercoat is not always visible on these dogs, but it surely makes an appearance when the dog has been lying on the sofa for a while and leaves a nest-shaped layer of dead coat on it.
Dogs with this kind of coat need more attention than single-coated dogs because they constantly shed dead hairs. Using the right brushes will help to strengthen the hair follicles, significantly reducing the amount of shedding. Even though this dog's coat won't get matted, it will get smelly if not washed every couple of weeks, depending on where your dog lives, plays, and so on.
Dogs with Medium Hair
Most dogs with medium-hair length have a double coat. These dogs can be divided into wiry or straight coats.
Most terriers have medium-length coats with a wiry texture. These dogs get "hand-stripped". Maintaining the coat with a regular hand stripping technique will keep its texture and color.
Using clippers on a dog with a wiry coat will most likely change the coat to a softer texture, making it lose some of its bright colors and requiring more frequent grooming.
Examples of breeds with this coat are Cairn Terriers, Fox Terriers, and West Highland White Terriers.
Dogs with medium double straight coats present a straight outer coat and a soft woolly layer of fine undercoat.
This kind of coat needs to be brushed often to prevent the undercoat from getting packed, which will create mats and expose the dog to sores and hot spots. While brushing this kind of coat, it is important to use the right tools to ensure that you are reaching the undercoat.
It is not unusual to meet a dog owner who swears that his or her dog gets daily brushing but still gets matted. If this is the case, then most likely the brushing was done only on the top layer, letting the undercoat get packed and matted. An undercoat rake is a great tool to use on these kinds of dogs.
Examples of breeds with this coat are German Shepherds, Siberian Huskies, and Labrador Retrievers, just to name a few. Keeping the undercoat properly brushed will help the dog to adjust to extreme weather conditions, because the undercoat creates an insulating layer that protects the dog from heat and cold.
Dogs With Long Hair
Most breeds with long coats can be divided into drop or straight coats and curly coats, with or without undercoat. Long-haired dogs need a very strict grooming schedule to prevent matting.
Long Drop Coat with Undercoat
Examples of breeds with this coat are Shih Tzus, Tibetan Terriers, and Bearded Collies.
This kind of coat is long and flows elegantly when the dog moves, and the undercoat is soft and woolly.
Long Fluffy Coat with Undercoat
Examples of breeds with this coat are Pomeranians, Pekingese, and Old English Sheepdogs.
These dogs present long coats with an intense presence of undercoat. Their outer coats are straight with a coarse texture that makes them stand up with a fabulous mane effect, giving the name to a popular style, the lion cut.
Clipping this kind of coat short can alter the pattern of how the hair will grow back. Dogs with long fluffy coats are fairly high maintenance because they can get matted quickly if not brushed often.
Long Drop Coat without Undercoat
Examples of breeds with this coat are Yorkshire Terriers, Maltese, and Afghan Hounds.
This kind of hair, when kept healthy, is easier to care for than hair with an undercoat. This hair is very similar to human hair, soft and long. Dogs with this kind of coat do renew their hair, but their shedding is minimum and not seasonal.
A good weekly brushing will keep the coat nice and shiny. Using thinning shears when trimming will produce natural-looking results.
Long Curly Hair
Examples of breeds with this coat are Poodles, Bichons Frises, and Portuguese Water Dogs.
Most curly coats don't have an undercoat, and this is the reason they are the most hypoallergenic kind. However, no dog is totally hypoallergenic because saliva contains proteins that can trigger some human allergies.
These are the perfect dogs for fabulous scissor work. It is necessary to keep the curls brushed properly to avoid matting. The use of snap-on comb attachments makes it easy to keep them at a medium-length coat.
Dog Grooming Tips for Every Type of Coat
was last modified:
February 27th, 2020
by