The coat of the Scottish Deerhound is relatively easy to care for, needing merely a brush with a pin brush on a regular basis, and combing through with a wide-toothed comb to remove burrs, etc. The coat is shaggy, but not over-coated, and a woolly coat is considered unacceptable.
The correct type of coat for this breed is thick, close-lying and harsh or crisp to the touch. The hair on the body, neck and quarters is required to be 3 inches (7 cm) to 4 inches (10 cm) long. The hair on the head, breast and belly is softer. A slight hairy fringe on the inside of the fore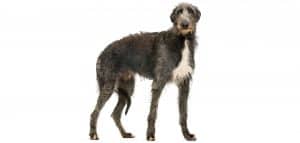 legs and on the hind legs is typical.
The color is dark blue-gray, darker and lighter grays or brindles and yellow, sandy-red or red fawns with black points. A white chest, white toes and a slight white tip on the stern are permissible, but the less white the better, as the Scottish Deerhound is a self-colored dog.
Grooming Procedure
Equipment needed: Pin brush, comb.
The show dog must be bathed and groomed about a week before a show to allow the coat to settle.
Brush through the coat with a pin brush.
Bathe as little as possible. If the dog is very dirty and there is no avoiding it, bathe it using a suitable shampoo for coarse hair.
Towel dry and finish with warm air, a cage dryer or a blower.
Comb or brush through the coat once again.
Check the dog's nails, ears and teeth.
The Scottish Deerhound is presented as naturally as possible, though the ears can be trimmed to make them appear "mouselike".
Coat Care for a Scottish Deerhound
was last modified:
March 24th, 2020
by