It is fairly easy to maintain the coat of a Border Collie, simply just requiring a weekly brush. The Collie has two varieties of coat; moderately long, or smooth. The topcoat is dense and medium-textured, while the undercoat is soft and dense. In the longer variety, the abundant coat forms a mane, breeching and brush.
Grooming Procedure
E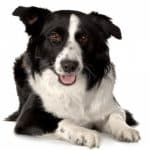 quipment needed: Soft slicker, and a medium-toothed comb.
The Border Collie coat looks easy to maintain — provided it is groomed regularly. Some coats can be quite profuse, and will mat terribly if neglected, so a groom at least once a week is vital.
Brush through the coat with a soft slicker.
Comb with a medium-toothed comb, removing any tangles and dead coat with the help of a dematter if necessary.
Make sure you check the breeching and behind the ears for mats.
Bathe the Collie in a protein shampoo, being careful to rinse thoroughly.
Use a purifying shampoo and mask (used together) about three times a year, to nourish and enhance the coat and skin.
Blow-dry or cage-dry the coat.
Check the Collie's nails, ears and teeth.
Scissor the hair to a tidy and smooth appearance from the back of the hock to the foot. This can be done to the show dog, as well as to the pet dog, as long as the trimming is not excessive.
Scissor from the back of the pastern to the foot or front leg, to neaten the appearance.
Finish by brushing in a light spray of coat conditioner, if required.
Coat Care for a Border Collie
was last modified:
April 29th, 2020
by